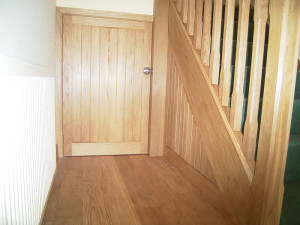 Spot On Joinery manufacture or supply and fit fit all types and styles of doors.
External and Internal doors, choose from a range of selected suppliers or purpose made.
Garage doors.
Stable doors.
Kitchen doors.
Fire Doors.
Replacement Yellow pine panelled doors.
Distressed oak door and replica 16th century "plank and muntin" wall.
Distressed oak door with period hinges.
Security locks, letter plates etc.
Draught Seals.
Weather bars.
Spot On Joinery also provides a service fitting modern draught seals to existing door frames. A huge benefit to your heating costs.
Garage Doors, frame & concrete ramp.
Bespoke mahogany door and glazed frame.
Repairs to rotten sections for listed conservation requirements.
Alcove unit with matching bottom doors and "Tee" hinges
"Exitex" thresholds and cills.