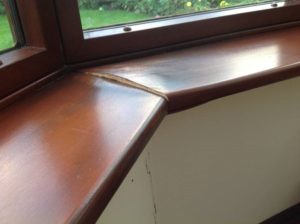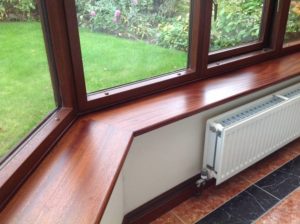 Mark came to refurbish our conservatory, to replace the badly warped shelves with solid mahogany, to repair some window frames which had rotted away and to rehang and secure with new locks the double doors leading out onto the garden. We are delighted with the results and have no hesitation in recommending Mark because of his cheerful disposition, his reliability and conscientious approach, plus his determination to do the best possible job.
Best regards
Dorothy and Brian Wallis
---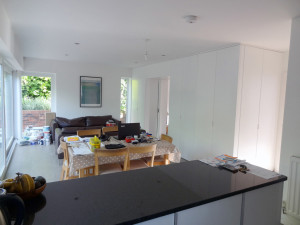 "After months of searching for someone that I felt would care about the finished product as much as I did, I was lucky to meet Mark. As an architect I required a simple and clean finished product with high standards of workmanship. In completing the design it was apparent that this was not a straightforward task given the nature of the existing building.
Mark took hold of the design, understood the intention, developed and improved the details, sourced alternative fittings and arranged the high quality finish I required. Throughout the project, in a busy family house, he continued to insist on achieving the highest standards of workmanship.
Mark is a true craftsman and professional, a rare thing today and I have no hesitation in working with him again and recommending him."
Clive Panter
Director of Architecture
For and on behalf of
LEWIS AND HICKEY
Architecture: Manchester
Tel | 0161 236 2422 | 07766 250781 | Contact us
Visit our website | www.lewishickey.com
June 2015
---
Hi Mark
We just wanted to say a massive Thank you for the work you did for us.
Bespoke bathroom panel you knew exactly what we wanted after it was explained. You got on with the impeccable job. You then moved onto our airing cupboard storage shelves and boy did you deliver. More space than ever, had absolutely brilliant workmanship throughout. From initial contact right through to finish you were professional, really friendly and frankly just as your business States SPOTON! Thanks Mark
Recommend you totally!!
Mr & Mrs
June 2105
---
Re: Mark at Spot on Joinery
Mark made a bespoke bathroom cabinet and bath panel for us.
His workmanship was second to none and we were extremely pleased with the quality and look of the finished product.
He worked extremely hard and he was very tidy, cleaning up after himself.
He was most courteous throughout the process.
Whilst we had to wait quite a while for Mark to complete the work, because he was busy doing work in London, it was worth the wait because it has transformed the look of our bathroom.
Thank you Mark.
---
"I cannot recommend Mark at Spot on Joinery highly enough. Mark is a real perfectionist and has an eye for detail, but is also flexible. He really listened to our ideas and requirements to ensure we got what we wanted. He put a great deal of thought and effort into every stage of designing, creating and installing built-in shelving for our home. We went for different styles (a more traditional style and a 'retro' 1950's style) in our two downstairs rooms, and are delighted with the results."
Mr & Mrs Pearson
---
Hi Mark,
Thanks again for the fine job and subsequent tips.
Hope the following helps,
"Mark was recommended to us and we found his craftsmanship to be superb, he is meticulous in his attention to detail and a really pleasant and helpful guy too. We would have no hesitation at all in thoroughly recommending him".
Be in touch when everything is complete in case you wanted pictures or whatever for portfolio.
Regards
Mark
---
To whom it may concern
Mark Edwards – Spot On Joinery
Mark Edwards has completed a beautiful job fitting the oak work tops in our kitchen.
His standard of work was very high, including:
• Perfect mitres at the angles (none of them 90 degrees)
• Wrapping a 900mm wide work top round the end of a peninsular unit to the floor, with a very accurate mitre joint.
• An ingenious and beautifully made hatch to hide the transformers for charging mobile phones etc.
• A lovely set of shelves for our cookery books.
Mark also fitted our French windows and back door.
Mark is cheerful, hard-working and a trustworthy person, who is happy to give good advice on any other work going on.
I would be happy to recommend him to anyone requiring very good quality work at reasonable prices.
Yours sincerely
Richard Wood