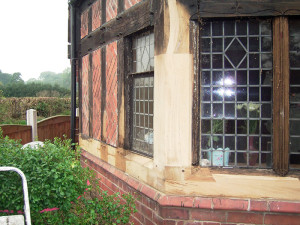 Spot On Joinery fully restore decayed property's to their former glory, handling all the timber, stone, masonry and lead work elements of the reinstatement required.
Pictured is a Tudor style property In need of major repair of the mock timber frame, and the adjoining masonry, the replacement of several rotten timbers along with structural repairs as required.
Pics captions:
Capping bricks replaced after fitting new section of oak
Rotten timber being removed.
Main base timbers replaced with new pieces scarfed on to corner post.
Scarfed repair to kitchen window.
Close up of mullion repair.
Internal frame repair.
Machining Oak for repair in background of picture.
Structural repairs to the masonry, before the horizontal timber is removed.
Block work infill for panels prior to rendering.
Finished repairs, just wants painting.