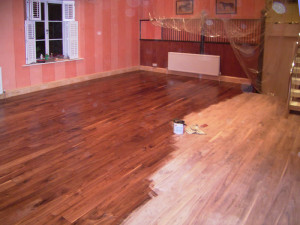 All types of flooring supplied, finished and installed.
Solid timber, a vast choice of timber, finishes and widths available
Laminated, embossed wood effect face with moisture resistant MDF core.
Engineered, a hardwood surface with a softwood core.
Advice on laying the various types.
Planks laid out in order prior to laying. (Pics)
Nearly complete plenty of boards out so as to select the best matches.
Clearing up.
After sanding, the first coat of oil is applied.
Steps and boarders finished as required.
Granite hearth to replace old tiles.
The above flooring can be installed in most environments; some are suitable for use with under-floor heating.